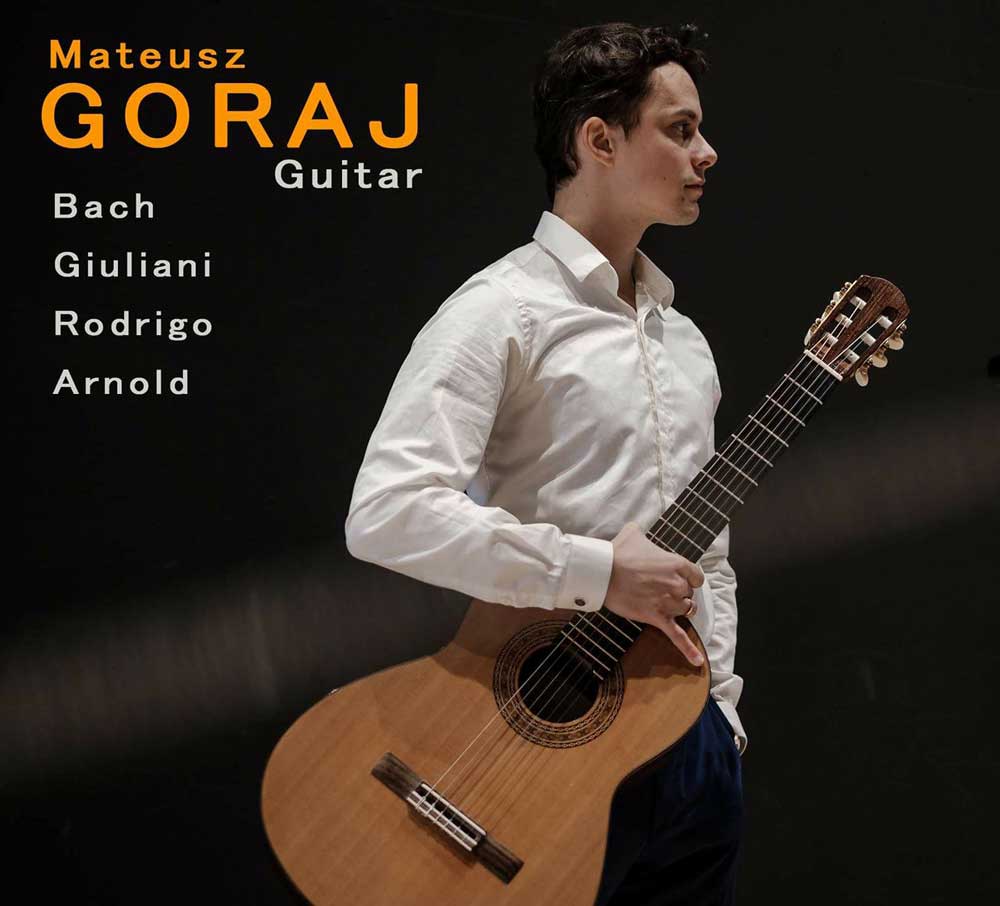 Recording engineer: Dariusz Kabaciński
Graphic design: Jan Goraj
Photos: Mischa Blank
Text and translation: Agnes Izdebska Goraj, Bennon Pickette
Johann Sebastian BACH (1685 – 1750)
01. Toccata and Fugue BWV 565 arranged for guitar by ALEXANDER MAKAY
Mauro GIULIANI (1781 – 1829)
Le Rossiniane, part 1, opus 119 "Rossiniana no.1"
02. Andantino
03. Andante Grazioso
04. Maestoso
05. Moderato
06. Vivace
Joaquín RODRIGO (1901 - 1999)
07. Invocación y danza - Homenaje a Manuel de Falla 1961
Malcolm ARNOLD (1921 – 2006)
Fantasy for Gutiar Opus 107
08. Prelude
09. Scherzo
10. Arietta
11. Fughetta
12. Arietta
13. March
14. Postlude

---
---
Johann Sebastian Bach's Toccata and Fugue in D Minor, BWV 565, is counted as one of Bach's most famous pieces of organ music, even though musicologists argue whether it was actually written by Bach and whether it was originally composed for the organ. Its simple harmony, brilliant virtuosity, and emotional expression make it an immortal classic. People immediately associate the piece with a large, majestic sound, whether of an organ, a symphony orchestra out of Walt Disney's Fantasia, or, in a somewhat more rock-like style, Vanessa-Mae's electric violin.
The guitar's timbre stands in stark contrast. In Alexander Makay's arrangement, the polyphonic sonority and organ-like part-writing comes into full effect. The guitar leaves the listener more room to sit back and gives the Toccata the refreshing, light character of a fantasia, from which it originates. In the arrangement for guitar, the Fugue also gains transparency and ease, and the final toccata gains virtuosity.

The first heyday of classical guitar music came at the beginning of the 19th century with Le Rossiniane. The composer and guitarist Mauro Giuliani was a virtuoso on his instrument, like Niccolo Paganini on the violin. They were, along with Giacomo Rossini, often referred to as Il Triumvirato Musicale. The musicians knew each other and influenced each other's work. The first three parts of Le Rossiniane were written in 1820/21 in Rome, when Giuliani had returned from Vienna in debt and Italy was seized by "Rossini fever". Giacomo Rossini shared his scores with Giuliani, and he converted the popular opera arias into medleys or fantasias, the six parts of Le Rossiniane. These late works by Giuliani show how the guitar developed into a virtuoso concert instrument. This virtuosity combined with Rossini's unparalleled melodies made Le Rossiniane a masterpiece of the classical guitar repertoire. In the first part of the work presented here, Giuliani uses themes from the Rossini's operas Otello, L'Italiana in Algeri, and Armida.
Joaquin Rodrigo's Invocación y danza – Homenaje a Manuel de Falla established itself as one of the masterpieces of the 20th century guitar repertoire. Rodrigo received first prize at the Coupe International de Guitare, a composition competition of the French broadcaster ORTF. The piece is strongly influenced by Spanish folklore and flamenco, an homage to Manuel de Falla, who was a proponent of national trends in the music of the 19th century. The two met each other and became good friends in Paris while Rodrigo was studying with Paul Dukas.
For his homage, Rodrigo picked out selections from El amor brujo and El sombrero de tres picos, as well as from Le Tombeau de Claude Debussy, de Falla's only original composition for guitar, a tribute to the great French composer. Rodrigo's musical language distinguishes itself from de Falla's, severely distorting the selections. The piece, however, contains the full spectrum of typical Spanish music – dramatic, with wild tremolos, arpeggios and rhythms, yet dancing and nostalgic.
"Music is the social act of communication among people, a gesture of friendship, the strongest there is." -Malcom Arnold
It was his friendship to guitarist Julian Bream that prompted Malcolm Arnold to compose for the guitar. Their first encounter led to the Serenade for Guitar and Strings, op.50 (1955), and shortly thereafter came the Concerto for Guitar and Chamber Orchestra (1959). Julian Bream helped Arnold, who had never written for guitar, with guitar-specific questions. As a trumpeter, he did not have much knowledge of guitar technique. Bream respected the sense of orchestration that Arnold had developed during his work as the first trumpeter in the London Philharmonic Orchestra. In 1948, however, he left the orchestra to devote himself fully to composing. His work includes over 500 pieces, including operas, symphonies, and soundtracks. He received the Oscar in 1958 for his music in the film Bridge on the River Kwai. Despite his talent and the approval of both audiences and performers, Arnold did not feel sufficiently appreciated and suffered from depression and mood swings. His condition became more acute in the 1970s, which is noticeable in Fantasy for Guitar (1971), a composition rich in contrast: tender in the ariettas, snide and cynical in the fast movements.

---
Johann Sebastian Bach (1685 – 1750)
Toccata und Fuga BWV 565
arranged for guitar by ALEXANDER MAKAY
Manuel Maria Ponce - Sonatina Meridional
Prelude and Gavotte en Rondeau
Johann Sebastian Bach (1685 – 1750)
Prelude and Gavotte en Rondeau
Mateusz Goraj's performance at the Universität für Musik und darstellende Kunst Graz (Austria)
---